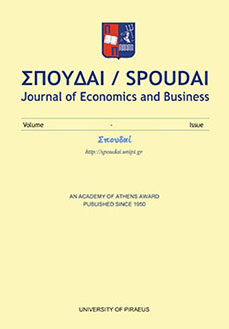 SPOUDAI is a peer-reviewed journal, publishing rigorous analytical papers, theoretical and empirical that deal with contemporary economic and business issues. It fosters both theoretical and quantitative contributions to Economics and Business. SPOUDAI not only serves as a link between theorists and practitioners, but also builds a bridge between economists and their colleagues in related fields. Contributions which make use of the methods of mathematics, statistics and operations research will be welcomed, provided the conclusions are factual and properly explained.
Indexed in
SHERPA/RoMEO, OAJI (Open Academic Journal Index), Journal of Economic Literature (EconLit Database), EBSCO, Google Scholar, Research Papers in Economics (RePEc), EconStor.
Published since 1950
Awarded by the Academy of Athens
PRINT ISSN
1105-8919
ONLINE ISSN
2241-424X
Secretariat
: Konstantinos Yiannelis, Aikaterini Giannaki,
spoudai@unipi.gr
Publisher
: University of Piraeus, Greece
Announcements
The 13th Biennial ATHENIAN POLICY FORUM CONFERENCE

You are cordially invited to submit your research papers for presentation consideration at the 13th Biennial Athenian Policy Forum Conference that will take place on 7-9 July 2016 at the Athens University of Economics and Business, Greece. This two-day conference, hosted in particular by Athens University of Economics and Business, aims to bring together academics, practitioners and policymakers sharing interests in Economics, financial, political and institutional asymmetries. It also provides a forum for presenting new research results as well as discussing current and challenging issues in the wake of the recent debt, financial and political crises.

Submission deadline: March 15, 2016
Posted: 2016-01-12
More...

ECONSHIP 2015

European Conference on Shipping, Intermodalism & Ports – ECONSHIP 2015
Posted: 2015-01-28
More...